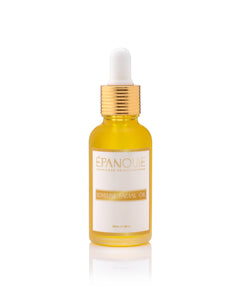 Luxurious
On my second bottle of this - I tend not to use this every day since my skin is not usually dry so it lasts forever. I use it a few times a week, especially after the pumpkin mask and charcoal mask. I absolutely love the fragrance. A tiny amount is all I need (even less than what is recommended) and it leaves my skin soft and hydrated.
This oil smells so good & it doesn't leave a greasy feel on the face. 10/10.
Holy Grail
Will never stop singing the praises of this oil. The difference in the radiance of my skin when I don't use it consistently or run out is obvious!
Favorite & Best face oil by far
This face oil is amazing. I recommend it (as well as all épanouie products) to everyone I know. My face absorbs the oil so well and it doesn't leave me looking super oily. I also constantly get complimented on how beautiful & healthy my skin looks.
Woohoo!
My face looks bright and well hydrated.💯 must have.
This oil doesn't leave me looking like my mother just slapped a lot of Vaseline on my face before school. My face looks and feels moisturized. Not heavy and absorbs well
My staple
Glad I finally get a chance to review bc I've been using it consistently for more than a year now. I generally use it after exfoliating my face and it's made it so even, soft and glowy! This difference is obviously clear and I use nothing else! I pair it with the day creme and once it's starting to go down, I start plotting on the next one! I have a lot of epanouie products but this is the one I used everyday. A game changer!
Never leaving my routine!
I've been using this facial oil for over a year and it is a huge staple in my routine! Super hydrating, helps with evening skin tone and I always wake up with glowing skin. Im keeping this in my night time routine forever
Bomb Glow!!
This oil truly seals in all my products and my skin absorbs it flawlessly! 10/10
A staple in my routine
Not too greasy or heavy. The perfect sealant on light routine nights. Also gives me this amazing glow and brings out my undertones so nicely.