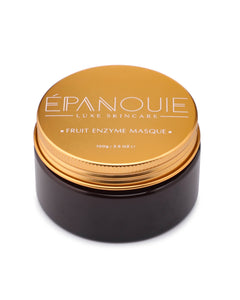 FRUIT ENZYME MASQUE
I loved the sample I got for this. It was my first time using a masque of this kind & the applicator makes the process feel luxurious :D
Love!
Got this as a gentle alternative to the pumpkin AHA enzyme masque and really love it! Gives the skin a nice finish / feel once you rinse it off and it's not too harsh on the skin at all. Will definitely be using it at least 1x a week!
Love this mask
I use this mask 2-3x a week and I love it. I've used the pumpkin one before and they're both great. This one isn't as strong as the pumpkin which makes sense but it still delivers an amazing exfoliation and leaves my skin glowing and soft. A little goes a long way, definitely get the fan brush for application, also I use this after using the charcoal or berry scrub and my skin is so soft and radiant after this process.
A lightweight way to exfoliate the skin. Always leaves my skin supple, soft and looking poreless!
This masque is more watery than I was expecting. But make no mistake, It makes my face feel so clean and soft. Another fave!
Lovely masque
I think this is a great & easy to work with. The included brush makes everything simple & I love that this can be used frequently. Only need a thin layer & try to only dip back into the container once or twice so you aren't doing tooo much cross-contaminating. Definitely gives me luxury.
a staple
tightens and brightens my skin instantly. divine fruit scent and feels so refreshing to wear.
Not my Favorite
This isn't my favorite product and I think it's mainly due to the texture. I wasn't expecting it to be so watery. I've used it a few times and the results are okay. However, I'm willing to use it more consistently for the summer glow. The pumpkin masque is definitely my preferred exfoliator.
Please use this product with one of our masque applicator brushes which can be found in the link below. A thin single layer is all that is needed for effective treatment. Our brushes make application seamless & it's also more hygienic to preserve the purity of your product. Thank you for your review!
https://epanouieskin.com/collections/all/products/masquebrush
My Weekly Exfoliation Secret
I switched over from the Pumpkin Masque to try a gentler mask, for weekly use. I am IN LOVE with this masque. It makes my skin super smooth and the treatment doesn't irritate my skin at all. What really made me buy this product is when a esthetician told me she would charge me $80 per fruit enzyme treatment for a series of 3 treatments...so i bought my own treatment from Epanouie knowing that the products contain actives and I can use it (at home) anytime my skin needs it.