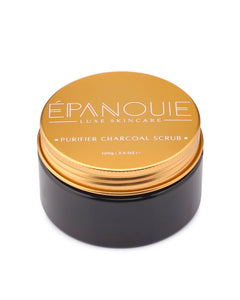 Does The Job
This product clears my stubborn pimples are gently exfoliates my skin. I use my hydrating mask and barrier repair cream after.
Does Exactly What It Says
First of all, this masque is so easy to use. It purifies & exfoliates the skin like crazy! Especially followed up with the hydrating masque + barrier repair, your skin is going to feel like butter afterwards. A must buy.
A little goes a long way
I'm STILL using the little sampler size I ordered a few months ago. I love the texture of the scrub and how it doesn't feel like it's sucking moisture out of my skin. I will be buying the full size next time around!
A household favorite.
Super helpful exfoliator for me who deals with dry skin and eczema, and helpful for my partner who deals with in-growns on the neck from shaving.
Glowy Skin
It leaves my skin so supple and smooth. I follow up with the banana oat hydrating mask for max hydration and feel ethereal.
Nice scrub
I have been looking for a scrub for a while and finally decided to try this one. I have no complaints.
Good stuff
I enjoy it. No real complaints.
Acne be gone!
Not sure how it works but this always clears stubborn acne for me & they don't come as often, also leaves skin softtttt
The best scrub
I have been using this scrub for approximately a year and a half and my skin gets better each time. My skin feels supple and smooth to the touch and although it's an exfoliator it does not leave you skin feeling raw or dry.
Favourite facial scrub I have ever used in my life. If I ever want a scrub I know where to come. Face just feels so good after using it.