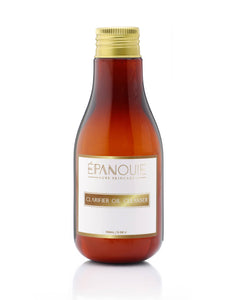 never not buying
First time I used it I did love it, but decided to get something cheaper when I ran out. Never again! such a deep yet gentle cleanse and smells heavenly
Life Saver
This cleanser is a life saver!! The winter shows no mercy on my face and the skin around my mouth gets raw and flaky. It's uncomfortable and can feel embarrassing since I have to (unfortunately) talk a lot at my job. But this cleanser clears it right up and gets the dead skin off really well. I use it with the superfruit gel creme and soyeuse face oil.
Really enjoying it
A little goes a long way with this cleanser. I have noticed that I can start off with no water to really work the product in and once I add water it lathers up really nicely. I also love the smell! This is my go to especially for removing makeup and spf
Leveling Up My Skin
I've never tried an oil cleanser, but this brand has never lead my astray. I ordered a sample of this and I've been using for the past couple weeks. My skin texture and moisture has improved immensely - it looks so smooth and moisturized. It smells fantastic and I think the extra step in my routine has greatly improved my skin, especially as the winter has started. I follow up this with my daily cleanser and feel so soft & clean. If you've never tried an oil cleanser, definitely try this out!
Amazing
My skin has felt so much cleaner especially after a night out. Combined with the Adour 👏
Staple
The texture on my skin has tremendously improved since I started using this product. It is so good at removing the sunscreen residue at the end of the day. Love! New staple in my routine.
Very strong cleanser!
I really feel clean after rinsing it off my face. It takes a little longer than other ones but I think it's a lot better.
Happy customer
I'm so glad I purchased this product. I have oily/acne prone skin and this product leaves my skin feeling so clean. I use this as my first cleanse and follow up with the daily cleanser and my skin feels so clean but soft and moisturized, truly so happy I added it to skin routine.
great first step to double cleansing. It emulsifies nicely and throughly cleans and removes makeup, debris, etc from the day.
Thorough cleanse
Great product, thoroughly cleansed all makeup!