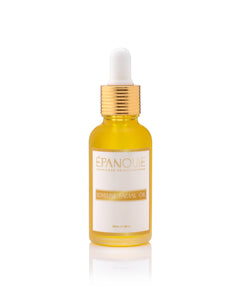 Glow
My skin glows more than ever now that I've added this to my routine.
Great product
This oil is really nice, light and does not leave my skin feeling greasy but has helped with my glow and moisture retention. My skin feels so soft and supple after using. It works great for gua sha massages too, I love doing that and waking up feeling great about my face
My Go to
I don't know where to even start !! This here is amazing if used correctly. literally this keeps my skin care routine in check ❤️ I love it so much
Love! Non-Greasy Feel
I'm giving this 4 stars, onlyyy because I wish the bottle were bigger ...I love this oil, and had not purchased in a while due to the price. However, for the price, it's a high-quality oil that elevates the other treatments/moisturizers by sealing them in.
A must have for me
Although I have oily skin, I've noticed overtime that my skin is becoming very balanced with my Epanouie skin care. I do not wake up looking like an oil slick. I tried this as a sample just to see how I'd like it and loved it and ordered a full size bottle. I use it 1 - 2 times a day. Love using it as a final step on my exfoliation days and wake up very glowy and moisturized on the mornings I use it at night. Small dots as recommended go such a long way.
Feels amazing
Love how this oil makes my skin feel when I wake up in the morning after apply at night. Game changer
😍
I loooove this oil! It really locks in the moisture and makes your skin butter smooth. When I wake up in the morning after using at night, my face is transformed!
Luxurious
On my second bottle of this - I tend not to use this every day since my skin is not usually dry so it lasts forever. I use it a few times a week, especially after the pumpkin mask and charcoal mask. I absolutely love the fragrance. A tiny amount is all I need (even less than what is recommended) and it leaves my skin soft and hydrated.
This oil smells so good & it doesn't leave a greasy feel on the face. 10/10.
Holy Grail
Will never stop singing the praises of this oil. The difference in the radiance of my skin when I don't use it consistently or run out is obvious!