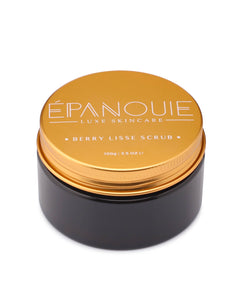 Love this scrub!!
Ive used the charcoal and berry scrub and I prefer the berry out of the two for my specific skin conditions. You cant go wrong with either, but for me its the Berry Lisse.
The smell and gritty texture followed by hyaluronic serum and essence applications leaves my skin with an unmatched hydrated glow.
Great Exfoliation l
I first tried the charcoal scrub and loved it. But I wanted to try something that would help my hyperpigmentation more. I really love this scrub. I use this on average of twice a week and my skin really feels and looks amazing after using this. Adding this as well as the hyaluronic acid to my routine has made a difference in my texture. My skin stays smoother for longer
This scrub smells really good!!
Great scrub
I've used the charcoal scrub before and thought I'd try this one. It smells amazing and has a great texture, I love how it feels on my skin, it has a nice grit to it but it's still gentle. I love how soft my skin feel after using this and you don't need much to do your face and neck. Definitely a must for soft, glowing skin.
Need It!
Omg, I don't know why I took so long to buy this scrub. My face feels sooo smooth post cleanse. And it smells delicious too! I believe the berry scent of this scrub matches the berry scent of the body scrub. A must have to your routine.
Fav scrub everrr
I love love love this scrub, i use it like once a week and i'm getting a lot less texture on my face
Amazing product
I love this scrub. My skin feels so clean after using this and is not harsh on the skin
Love it
It's been a while since I've used scrubs but this right here?? One of the best facial scrubs I've ever tried. It's not rough on my skin at all and leaves my face feeling so good. I don't use it too often because I also chemically exfoliate but when I do use it, I love it.
Favorite!!
This is my favorite product from the brand, I know the use is for face but I prefer to use it on my body as well, especially like a day after any hair removal process. I wear a lot of gel in my hair so I also use it along my hairline when washing my hair or face and have used it on my scalp also. It's really good for feet and hands, I'm in water often so I peel and this helps a lot with getting those little pieces of skin off with use of an abrasive cloth! Smells amazing and has never broken me out or gave me any skin sensitivity issues.